CBS Artspace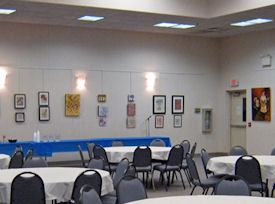 Contact: ArtSpace@napershalom.org
We are privileged to have a full schedule of artists for the 2012-2013 season. Be sure to mark your calendars with the following dates for the Meet the Artist receptions. All receptions are on Friday evenings at the Oneg after Shabbat services.
There is a $20 jury fee, to cover expenses of mounting the shows (waived for Congregation members). The Congregation requests a donation of 20% of any sales realized during the show.
2012-2013 Exhibit Schedule
October 24, 2012 to December 20, 2012
Loretta Hamilton, watercolor still life

Richard Sperry, acrylic abstracts

Meet the Artists Reception: November 9, 2012
December 24, 2012 to February 1, 2013
Barbara Lipkin, oil landscapes

Richard Marshall, oil pastel abstracts

Meet the Artists Reception: January 11, 2013
February 4, 2013 to March 29, 2013
Carrie Goodman, photographs

Chris Hughes, acrylic landscapes

Meet the Artists Reception: February 8, 2013
April 1, 2013 to May 24, 2013
CBS Member Show

Meet the Artist Reception: April 12, 2013
2012-2013 Artists
Congregation Beth Shalom is pleased to welcome a talented and diverse group of artists for our 2012-2013 season.
(read more)
Information for artists
Congregation Beth Shalom welcomes applications from artists creating 2-dimensional art in all media, in all styles and genres. Please keep in mind that the work should be suitable for a family-oriented house of worship, so use discretion is deciding what work to submit.
Artists should have a body of work of at least 10 pieces that are related in some way. There is room to display at least 10 and up to 20 pieces for each artist in a 2-person show. The art must be wired for (read more)