Religious School
Welcome to CBS Religious School! We believe the future of our people lies with its youth. Our educational programs are designed to teach our students about their Judaism and to help them feel proud. We emphasize Jewish values, the Jewish people, warmth towards traditional observance, and understanding of contemporary religious thought and culture. Judaism is taught through textbooks, but also through experiences such as art work, music, and field trips.
About CBS Religious School
Religious school begins the year before kindergarten and continues through high school. Students receive training for Bar/Bat Mitzvah, with confirmation at the end of tenth grade. Parents are encouraged to be involved throughout their children's religious education. The religious school is exclusively for members of Beth Shalom, supported both by the Congregation's budget and by tuition and fees.
School schedule
Pre-bnai mitzvah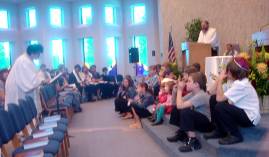 Our pre-Bnai Mitrzvah (PreK - 7) focus on teaching the fundamentals of Judaism, Jewish history, Hebrew literacy, and prayer literacy.
Pre-School Through 2nd Grade: Holiday and Bible story-based.
Grade 2: Hebrew letter identification
Grade 3: Hebrew reading/decoding, Israel and Bible stories
Grade 4: Hebrew through prayers, Bible stories-Prophets, Life Cycle and God talk
Grade 5: Hebrew through prayers, Ethics, Israel
Grade 6: (read more)
Post-bnai mitzvah
Grades 8-10 focus on living a Jewish life. The three grades build upon one another culminating in a "Kiddushin laTorah" ceremony in 10th grade.
Grade 8: Kiddushin I: Gemilut Hasadim (Acts of Loving Kindness) Mitzvot, Judaism and Urban Poverty, Holocaust focusing on the Righteous Gentiles and Partisans, social justice
Grade 9: Kiddushin II: Avodah (prayer, work, ethics) Comparative Religions, Lifecycle/Holidays on an adult level, meditation.
Grade 10: (read more)
Dine and discuss
Dine and discuss is a two year program for high school Juniors and Seniors. This discussion-based curriculum is less formal and allows students to further explore more mature Jewish ideas and discuss how they relate to the students' day-to-day lives.
Year 1: Making Choices, Introduction to Kabalah, Modern Israel
Year 2: What To Say To Missionaries, Sex in the Texts, ,Pirkei Avot: Ethics of Our (read more)