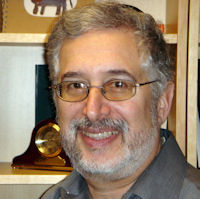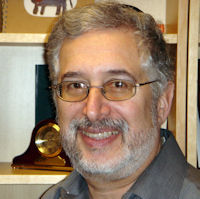 Rabbi Marc D. Rudolph has been the spiritual leader of Congregation Beth Shalom in Naperville, IL since 2008. Prior to coming to Beth Shalom, he served for four years as Rabbi of Congregation B'nai Jacob in Longmeadow, Massachusetts. He received his rabbinic ordination from the Academy for Jewish Religion, an independent, pluralistic seminary in New York City, in 2004.
Rabbi Rudolph came to the rabbinate after a career as a psychotherapist, supervisor, and consultant in community mental health and in private practice settings. He earned a Bachelors of Arts from the University of Pittsburgh in Philosophy and a Masters Degree in Social Work from Boston University.
Rabbi Rudolph has been a steadfast leader and guided our community over his 15 year period. The "Our Jewish Heritage Trip to Central Europe" and the three congregational trips to Israel are among his proudest achievements at CBS. Rabbi Rudolph's own passion for learning has made him a gifted educator at multiple levels: from responding to questions from our youngest congregants in our Religious School, to helping B'nai Mitzvah students and their families understand their Torah and Haftarah portions, to teaching adult learners on Thursday and Shabbat mornings, to his thoughtful and relevant sermons. He has been a compassionate leader, whose caring presence has been with us in times of sickness and health, sorrow and joy. His heartfelt religious services have inspired us over the years to connect more deeply with our Jewish values, our Jewish community and with God. Rabbi Rudolph has been active in the Chicago Board of Rabbis and for the past two years has served as its President. He is a member of the Jewish Federation of Chicago's Board of Directors and has been an active member of the Naperville Interfaith Leadership Association.
Rabbi Rudolph loves to get to know people. He invites all those who are reading this to call the synagogue to make an appointment to meet him!
Through the years with Rabbi Rudolph