Phone: 630-961-1818 x39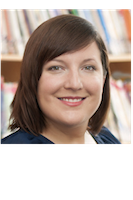 A Chicago-area native, Dore attended college at the University of Florida in Gainesville, earning Bachelor's degrees in Jewish studies and psychology and a Master's degree in education. While an undergraduate, Dore lived in Israel for a year while attending the Hebrew University of Jerusalem, an experience that provided fantastic opportunities t o celebrate Jewish traditions and cultures.
Dore has over a decade of experience in education teaching all ages, from preschool to adults, in the US and Japan. She also taught Judaica as a religious school teacher for eight years. A lifelong learner, she is currently pursuing a Master's degree in Jewish Professional Service at Spertus Institute for Jewish Learning and Leadership. She is dedicated to bringing families enjoyable learning opportunities that strengthen their ties to the Jewish community and is thrilled to join the Congregation Beth Shalom family.