Adult education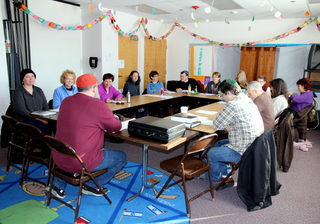 At CBS we seek to enrich Jewish life through adult education. We aim to provide learning opportunities of Jewish interest to all adult members of CBS.
There are on-going classes such as Torah study, Israeli dance, conversational Hebrew, Jewish Customs, and Israel discussion group. Most of the classes are lead by congregants, graciously sharing their knowledge and passion. As well we bring in interesting speakers, host Scholars in Residence, hold film screenings, and other enriching activities. Details about classes, speakers and how to register are included in the CBS Current Events Bulletin.
We'd love to hear your ideas of a class you like to see or an activity you'd like to lead. We welcome educational and experiential ideas for enhancing Jewish life - cooking, studying, creating and reading.
Thursday lunchtime study group
Lunchtime study group: Join us for our lively and popular weekly lunchtime adult study group, on Thursdays from 11:30 am to 12:30 pm in the Congregation library, led by our Rabbi, Marc Rudolph. The subjects of study are traditional Jewish texts (in English).
Our current topic of study is Rabbi Joseph Telushkin's book, A Code of Jewish Ethics, Volume 1: You Shall Be Holy. Whether you can come regularly or only drop-in occasionally, join us for the energizing discussions (read more)
Adult B'nai Mitzvah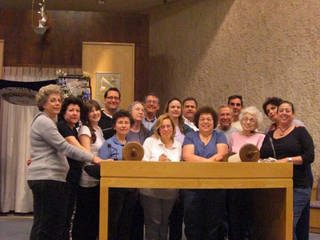 Congregation Beth Shalom Adult B'nai Mitzvah Program is open to members of all ages. Typically the class consists of family members, individuals, teenagers, and men and women aged 15-80.
The Program begins after the High Holy Days with Hebrew and Torah study. There are two Hebrew levels, beginning and advanced taught by two teachers. This nine month course of study includes Torah study and text analysis in Hebrew and English, holidays, Jewish ritual practice, Jewish history, and (read more)
Sunday morning free adult education program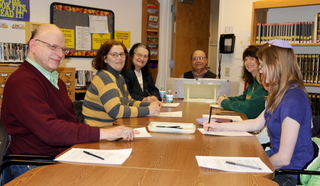 Judaism topics A to M

Fill in the blanks quiz game

Presented by
Joseph R. Davis, M.D., Ph.D.

Sundays 9:00 am to 10:00 am in the Library
This course runs from Sept. 9, 2012 to Dec. 16, 2012 (every Sunday except for Sun. Sep. 16, 2012 and Sun. Nov. 25, 2012)
Worksheets will be provided each Sunday morning for you to fill in the blank spaces and have a complete set of notes.
Try and win a great prize each Sunday for the most correct (read more)
Read Hebrew America
Have you always wanted to learn to read Hebrew? Do you want to refresh your Hebrew reading skills in order to help your child with her Hebrew homework, follow the services better or follow the Torah portion as it is being chanted?
Congregation Beth Shalom is regularly one of the sites for National Jewish Outreach's Read Hebrew America Hebrew Reading Course.
Classes typically run in the fall (see the Synagogue calendar or website newsfeed for specific dates and (read more)