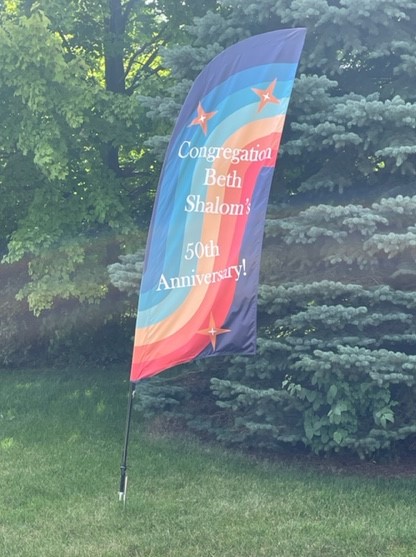 Congregation Beth Shalom of Naperville is a strong, vibrant, independent Jewish community and home to over 230 Jewish families in and around DuPage, Will and Kane counties. As an independent congregation, we provide a spiritual home for the broad mix of Jewish individuals and families living in the Western suburbs of Chicago. Our members represent varied traditions and beliefs, and we strive to practice Judaism in a way that is joyful and meaningful to all.
Congregation Beth Shalom has grown significantly since our founding in 1972, and we have evolved together. We are honored to be celebrating our 50th Anniversary in 2022. We hold true to the initial vision of our founders – to be a warm and welcoming sanctuary for those seeking to bring Jewish traditions into their lives. We are firm in our dedication to Jewish values, meaningful worship, spirituality, lifelong learning, acts of social responsibility, and support for Israel.
As a community, we worship together, bringing about a spirit of kinship through active participation in services, congregational singing, and the camaraderie of Oneg Shabbat. The depth and richness of our commitment as Jews is apparent each Friday evening, Saturday morning, and holiday as we gather to worship and to gain a greater understanding of our heritage.
Our worship style incorporates elements from all of the major Jewish movements, with prayers sung joyfully in a balance of Hebrew and English. Our philosophy and practices stress equal participation for men and women in all aspects of congregational life. Congregants from all backgrounds are welcomed with respect, including intermarried couples and their families. We recognize as Jewish any child who grows up in a Jewish household with at least one Jewish parent.
As a community, we learn together and celebrate together, growing connections across our network of members. We offer a broad spectrum of programs to serve the educational, religious, social, and life cycle needs of our members. Jewish ideals, education, identity and purpose are nurtured in an environment of friendship and caring.