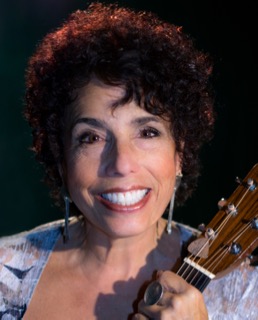 Phone: 630-961-1818 x15
Contact the Cantor using our online form
Cantor Hasha Musha Perman
Hasha Musha Perman "uplifting, ecstatic," is a dynamic innovator in Jewish music and prayer.  She has been the Cantor and Music Director of Congregation Beth Shalom for over twenty five years.  She founded Hasha Musha & The Kiev Klezmers in Chicago, a "glorious" mix of outstanding musicians, Russian Jews and American Klezmers.  She co-founded Minyan HaShira, the Singing Minyan.  Her one-woman show, More Than Chicken Soup, toured the US with a Klezmer trio.  Cantor Perman is very proud of the harmonious CBS Festival Choir, a volunteer choir, that inspires spirituality during the High Holy Days.
Hasha creates new expressions for prayer and exciting pathways to Jewish education.  She created the Sacred Drumming Circle, a joyous new Kabbalat Shabbat experience with drums and percussion. This meetup integrates chant, blessings, meditation, and rhythm into Friday night worship. Her illustrated Tu B˙Shvat Hagaddah is a great source for community observance and celebration.
Cantor Perman is the recipient of numerous grants and awards including the prestigious Illinois Arts Council Fellowship Award. She holds degrees in theatre and graphic design as well as Cantorial Certification from Hebrew Union College, JIR, SSM. She is a graduate of the Institute for Jewish Spirituality Leadership Training for Cantors and continues to study with the IJS Hevraya, which supports Rabbis, Cantors, Lay Leaders, and Educators.  Hasha is a teacher to students of all ages, in the CBS Religious School and the Adult Education program which features a one year Adult B˙nai Mitzvah Class.
Be sure to check out Cantor Hasha's blog at https://www.shir-harmony.blogspot.com