About CBS
Congregation Beth Shalom is a strong, vibrant, independent Jewish community and a home to over 300 Jewish families in and around the Naperville area. As an independent congregation, we provide a spiritual home for the broad mix of Jewish individuals and families living in the Western suburbs of Chicago. Our members represent varied traditions and beliefs, and we strive to practice Judaism in a way that is joyful and meaningful to all.
Congregation Beth Shalom has grown significantly since our founding in 1972, and we have evolved together. We hold true to the initial vision of our founders - to be a warm and welcoming sanctuary for those seeking to bring Jewish traditions into their lives. We are firm in our dedication to Jewish values, meaningful worship, spirituality, lifelong learning, acts of social responsibility, and support for Israel.
As a community, we worship together, bringing about a spirit of kinship through active participation in services, congregational singing, and the camaraderie of Oneg Shabbat. The depth and richness of our commitment as Jews is apparent each Friday evening, Saturday morning, and holiday as we gather to worship and to gain a greater understanding of our heritage.
Our worship style incorporates elements from all of the major Jewish movements, with prayers sung joyfully in a balance of Hebrew and English. Our philosophy and practices stress equal participation for men and women in all aspects of congregational life. Congregants from all backgrounds are welcomed with respect, including intermarried couples and their families. We recognize as Jewish any child who grows up in a Jewish household with at least one Jewish parent.
As a community, we learn together and celebrate together, growing connections across our network of members. We offer a broad spectrum of programs to serve the educational, religious, social, and life cycle needs of our members. Jewish ideals, education, identity and purpose are nurtured in an environment of friendship and caring.
Who we are
CBS organized in 1972 with just a few local families, establishing congregational roots for a Jewish population that was growing very steadily in western DuPage County. It wasn't long before we became a focal point for religious and social activities for Jews in many of Chicago's outlying suburbs. By the early 1980's we had outgrown our temporary quarters. In April 1985, having purchased our own building, we transplanted ourselves, a happy proud procession taking turns carrying our sacred (read more)
Clergy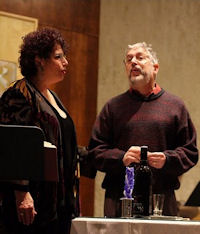 CBS is fortunate to have an outstanding Rabbi and Cantor. The two work together to bring meaning and spirit to worship, education, and community
(read more)
Lay Leadership
Congregation Beth Shalom is fortunate to have a skilled, experienced, and committed core of lay leaders. These leaders often fill-in for or supplement the rabbi or cantor as needed. They also drive many of the programs and activities at
(read more)
Professional and office staff
Our professional staff is here to help make our members" and visitors" experiences simple, fulfilling, and memorable. Whether it be the warm greeting you receive from our office staff, the high quality curriculum in our preschool and religious school, or having your questions answered, our staff puts the "pro" in
(read more)
Board and committees
Our boards and committees are the backbone of Congregation Beth Shalom. We are always looking for volunteers, suggestions, and help. If you have a question or idea or would like to help out, please contact the appropriate person listed (read more)
Contact us
Directions and Office Hours
Congregation Beth Shalom is located at 772 W. Fifth Avenue, Naperville, IL 60563. Our phone number is 630.961.1818. Click
here
for directions.
The CBS office (read more)
Submit an announcement
Use this form to submit Bima or weekly Digest announcements to Congregation Beth
(read more)