Did any of you see Chicago Tonight
on WTTW Channel 11 last Tuesday night? He interviewed two Chicago rabbis, Brant
Rosen and Andrea London, about the recent elections in Israel. Rabbi Rosen, who
recently resigned from his pulpit at the Jewish Reconstructionist Synagogue in
Evanston, represented the far left's opinion on Israel. Rabbi London of Beth
Emet Free Synagogue in Evanston represented the opinion of the moderate left. The
moderator, Phil Ponce, made it clear, both at the beginning and the end of the
interview that none of the rabbis contacted who represented the opinions of the
center or the right would agree to sit with Rabbi Rosen on any panel. He said
that was "a story in itself". I thought that was a missed opportunity to
educate people in Chicago about the viewpoints of those who support the
Netanyahu government.
Rabbi Rosen is an advocate of a one
state solution – Israelis and Palestinians united in a single state that stretches
from the Mediterranean to the Jordan River Valley. He also supports the
Boycott, Divestment and Sanctions movement, otherwise known as BDS, that seeks
to put pressure on Israel to offer concessions to the Palestinians through the
imposition of economic sanctions. To say the least, t
hose
positions have not exactly endeared him to mainstream Jewish leaders. This is
the reason that no Chicago rabbi who represents that mainstream could be found
to share the stage with Rabbi Rosen. Rabbi Rosen concluded his part of the
interview with his contention that although Israel was created to address the
issue of anti-Semitism in Europe, Israeli policies toward Palestinians has in
fact been the
cause
of anti-Semitism
in Europe in our own time. This last
statement was particularly troubling to me. According to this view, Israel,
conceived by Theodore Herzl as the solution to anti-Semitism in Europe, has
become, in our own day, the cause of anti-Semitism in Europe!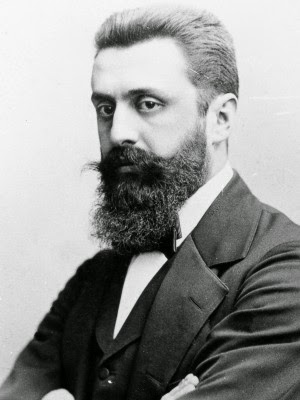 Theodore Herzl's (above) dream turned
on its head?
Rabbi Rosen follows in the
tradition of a long line of thinkers throughout the centuries, both Jewish and
non-Jewish, who held that if only Jews would change their ways, anti-Semitism
would disappear. In other words, it was
Jewish behavior that was responsible for anti-Semitism. In our own day, this is
reframed to blame Israeli policy for anti-Semitism. Rabbi Rosen, and others
like him, do not seem to understand that hatred against Jews, or any minority,
NEEDS NO REASON! Hatred of Jews and other minorities is IRRATIONAL. Hatred toward any group is based on stereotypes,
unfounded fears, and distorted assumptions about that particular group. In his
book,
Anti-Judaism: The Western Tradition
, University of Chicago
professor David Nirenberg traces the history of anti-Semitism in Western
culture and comes to the depressing conclusion that hatred of Jews and Judaism
is part of the fabric of Western thought. He shows that anti-Semitism doesn't
even need Jews around to flourish!
As a member of a group that has
endured thousands of years of hatred I welcomed the invitation to participate
in the Hate Crime Awareness Symposium held at Benedictine College this past Wednesday.
The program had three goals — to raise awareness about the increasing rate of reported hate crimes, to show
how these hate crimes impact communities, and to promote cooperation and
collaboration between different communities towards solutions. The United States Congress has
defined a hate crime as a "criminal offense against a person or property
motivated in whole or in part by an offender's bias against a race, religion,
disability, ethnic origin or sexual orientation". To me, a hate crime is particularly
pernicious because it singles out its victim based on who they are. Hate crimes therefore have many victims in
addition to the victimized individuals or the damaged property. All the members of the community of which
the victim is a member are also affected by the hate crime. A gay man is attacked because he is gay, and
it shakes the entire gay community to the core. Three Muslim students are shot
execution-style because they are a Muslim, and the entire Muslim community
feels unsafe. A man stands outside of a Jewish Community Center and guns down
three people who he thinks are Jewish. These crimes are directed not only
against the individual victims, but against the communities to which these
victims belong. They have a ripple effect that tears at the most basic values
our country, and Western democracies, hold so dear — that everyone in a
democratic and free society is entitled to the pursuit of life, liberty and
happiness.
Raising the awareness of hate crimes in
our communities, understanding what they are, and collaborating to prevent them
from occurring is critical to our collective wellbeing. Coming together to
discuss this problem at a Hate Crime Symposium is one important step in
addressing hate crimes. Educating ourselves, our children, and our friends
about respecting and valuing differences is another significant way of
addressing hatred. The power of getting
to know each other, of sharing a meal, taking a walk, discussing a book or a
film can be instrumental in dissolving our assumptions and prejudices about "the
other" of which we may not even be aware.
At this gathering I also shared how the entire faith community of our
area rose to the challenge of confronting hatred when a hate crime was
perpetrated against Congregation Etz Chaim in Lombard five months ago. Many of
us attended that inspiring rally of solidarity which proclaimed to the
community – we are not alone in standing against hatred.

This coming week begins the celebration
of the sacred holiday of Passover. We recall those days of slavery in Egypt and
our miraculous ascent to freedom. It is precisely that sense of freedom that
hate crimes take away, both from the individual and from the community. The
most repeated commandment in the Torah is the injunction to be kind to "the
other" – "For you were once strangers in the Land of Egypt". This Passover
season, may we reaffirm our commitment to fight against the hatred that we, as
Jews, know only too well – that hatred, directed against all minorities, that
takes away from the freedom of all of us.
Shabbat Shalom